Being Anglo-Indian
For me being an anglo-indian is something quite special. It means that we are of mixed parentage but not exactly in 50% proportions ! The mix went on through the generations. We have a community and an Anglo-Indian Association that has links and networks world-wide. Since my employment as Manager of an education and training project for Croydon CETS I have met many anglo-indian people in the course of my work.
Four or five generations of my family had been born and lived in India - mainly in Hyderabad and Secunderabad in Andhra Pradesh, South India and Bangalore in Karnataka - until my father and mother moved to Bombay in Maharashtra State where I was born.
My earliest known ancestor, my great-great-great-grandfather, has no recorded date or place of birth anywhere but apocryphal family tales make him variously:
1) a bastard child of an English VIP
2) a relative non-entity who made his way from the 'ranks'
3) of Portuguese origin
4) of Andalusian origin
5) just one of the Heinz 57 varieties
It seems we will never know.
My paternal grandfather was one of 22 children and the Bayley diaspora is humungous! There is at least one person from this ever-multiplying tribe on every Continent! I have recently traced a number of anglo-indians and some far-flung members of my family through the anglo-indian register on the WHERE ARE THEY NOW OUR ANGLO-INDIANS? website (e-mail: darouxl@cadvision.com).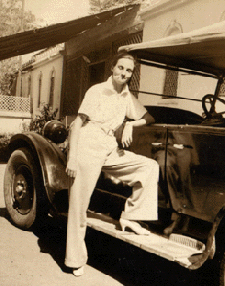 This is my fave pic of my mother, Veda, at her butch-est best. But she was no phallic woman, really. She was a dress-maker, a beautician, an electrolocist and a very, very camp fun lady in her day. A great ballroom dancer, a faithful churchgoer and traveller.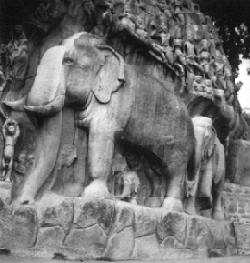 It was with my mother that I travelled all over India in the school-holidays. This is a pic of the stone carvings at Mahabalipuram in South India taken by her with a tiny, Baby Brownie camera (for those who can remember what that was!)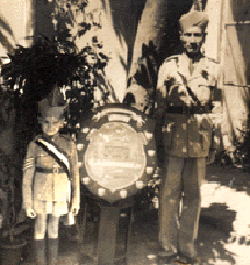 This is Dad'n'me posing in the garden outside our home in Bombay. He used to be a Chief Inspector with the Watch and Ward Section of the Western Railways (the railway police) and this was his sexy uniform!! The railway held an annual march of the police squads together with an athletics day and some special guest (like a State Minister) would present the awards. This year I was 'volunteered' to do the same for the Junior Section athletics. Hence the gear!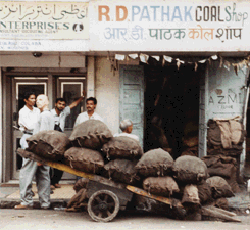 Well, time does march on so! This pic is of a coal-merchant's 'dhukhan' (shop) outside where the pic of Dad'n'me was taken. This was in 1997 when me and Tom (the boyf) went to Bombay to celebrate mine (and India's) 50th. anniversary.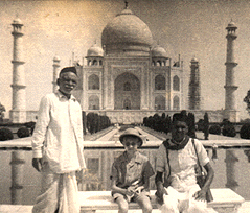 Mum and Dad lived seperate lives for a number of years- she in Bombay, he in Ajmer in Rajasthan. This is me with two of Dad's railway employees at - yes - Shah Jehan and Mumtaz's Taj Mahal!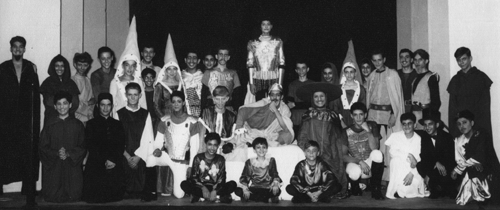 Those of you who might have attended the Cathedral & John Connon School might remember the great school plays produced by Mr. Lionel Dexter. This is George Bernard Shaw's "St. Joan" and it was my stage debut as a Page along with young Salman 'famous author' Rushdie playing the role of D'Estivet (front row).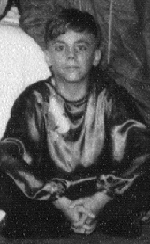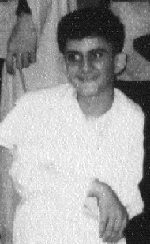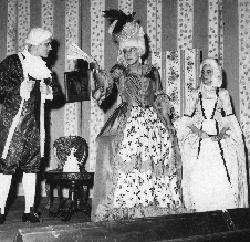 Here, it was, that some may say the 'trouble' with me all began! Yes, one of Lionel Dexter's plays again - this time Sheridan's The Rivals. Lydia Languish, there I went - the pretty-looking 'gel' with the ringlet white wig and black fan, not the old harridan. Forget all that stuff about "it was only because it was a boy's school and there were no girls to play the girly parts" ...
... I enjoyed every minute of it!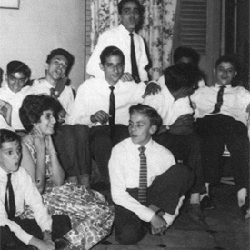 Here is a load of us at a class party. Just to show me wearing a tie, really! I seldom do.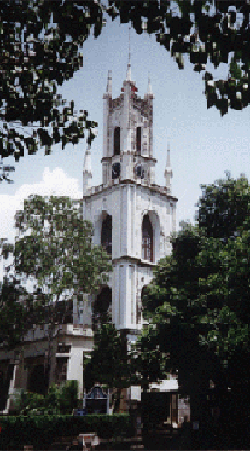 Here was where I was christened, baptized, confirmed and sang in Mr. Charles Velu's great choir for many years. He was both the choir master as well as the school music master and our school choirs - boy's and girl's - regularly won awards at the Annual School Choir Competetions.

My one bad memory of this church was when Mum took me to have the Canon 'bless' me as I was beginning to have various 'psychic' experiences like precognitive dreams and clairvoyance and these things "come from the devil', don't you know?" (See spirit page). It felt more like an exorcism. Needless to say it didn't do any good.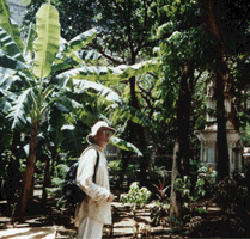 Thomas in the garden of the Cathedral of St. Thomas.

He's a doubter, too, but doesn't the banana plant look fab!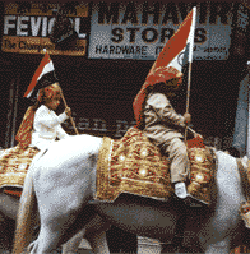 Independance Day in Bombay. August 15 1997